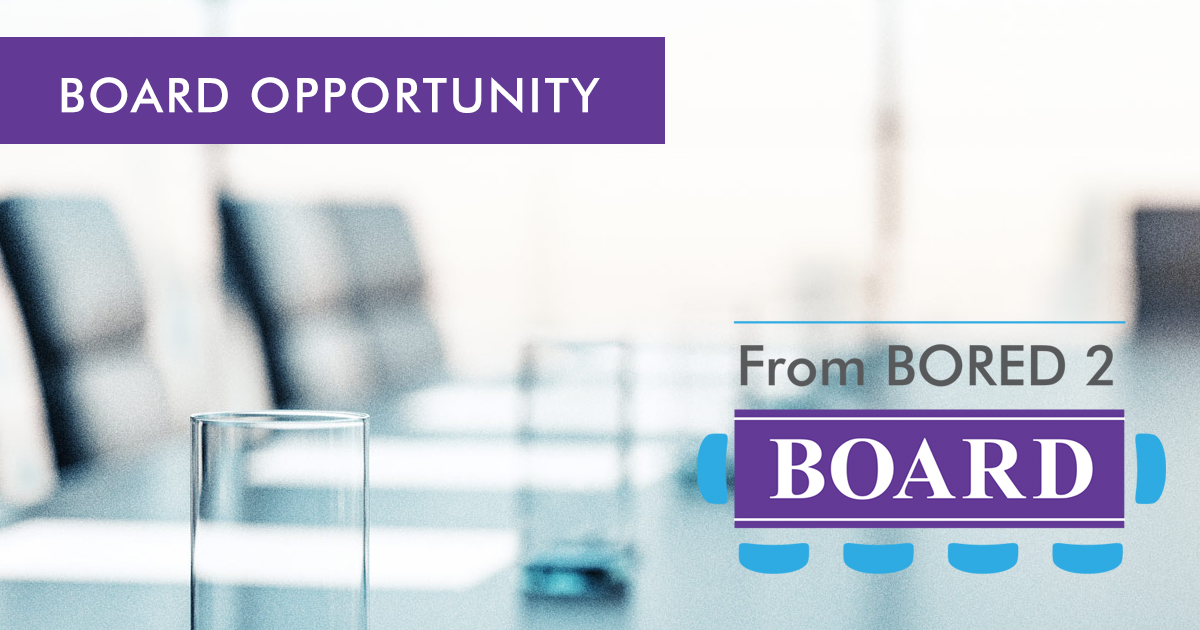 Expertise Desired:
fundraising, finance, legal, racial justice, gender equality, cross-cultural, knowledge and experience with Haitian history and culture
Committee Needs:
Finance, Fundraising
Annual give required?
No
Minimum give amount (if required):
Contact Details:
Rachel Vinciguerra
Email
(339) 222-2478
Additional Details:
Write to Be is seeking candidates to serve on its Board of Directors who have a passion for female empowerment, are excited to use their skill sets and networks to advance our mission, and can add diversity to our organization in thought, perspective, background, and experience.
Board Member Responsibilities:
– Exhibits a commitment to female empowerment and mission of Write to Be
– Attends monthly meetings via video call or telephone and twice a year meetings with advisory council
– Actively participates in discussions and decision making on Write to Be governing and operational matters brought to the board
– Approves Write to Be's annual budget, and material business decisions; being informed of, and meeting all, legal and fiduciary responsibilities.
– Stays up to date on Write to Be and client happenings via social media, independent research and news reading, and/or e-mail newsletters.
– Has appreciation and respect for Haitian culture and religion.
– Shares Write to Be's impact with network and cultivates new Write to Be donors/supporters. Represents WTB in a dignified manner.
– Makes an annual donation to Write to Be in any amount that is meaningful and reasonable to the board member.
– Commit 1-5 volunteer hours per week on specific role
– Attends and actively participates in quarterly anti-racism programming for board members
– Perform duties related to role noted in job description
Qualifications:
– Proven leadership skills, with the ability to contribute, lead, question, and motivate
– Strong communication and interpersonal skills
– Connection, familiarity with Haiti and/or Haitian culture and/or strong desire to learn more
– Commitment to working with a diverse group of peers, staff members, donors, volunteers, beneficiaries on behalf of the organization's mission
– Willingness to contribute personal resources–including time, knowledge, connections and money in support of the organization and demonstrated ability to (or potential to) cultivate and solicit funds, and to recruit new board members and volunteers
– Personal qualities of integrity, credibility, and a passion for improving the lives of Write to Be's beneficiaries
Not requirements, but a bonus if you have any of the below:
– Legal expertise for small nonprofits and/or international NGOs
– Human Resources experience
– Grant Writing
– Social Media
– Accounting/financial experience
– Salesforce experience or desire to learn
– Diversity of lived experience
Term: Board members should be willing to commit to at least 1 year in the role (renewable for up to 4 years).
Open Positions:
1) Fundraising Officer – The Fundraising Officer manages the CRM database of donors, contact information, and donations received. They are responsible for sending thank you letters to donors and providing tax-exempt receipts to donors. The Fundraising Officer develops a year-round fundraising plan and works closely with the Communications Officer to disseminate fundraising campaigns. They also work closely with the Finance Officer to monitor finances.
2) Finance Officer – The Finance Officer monitors incoming and outgoing funds and the total balance of the bank account. They develop the program budget and manage reimbursements as needed. They are responsible for managing the 501 (c) (3) status and reporting compliance and submits year-end tax forms. They work closely with the Fundraising Officer and Grants Officer to monitor finances. The Finance Officer should provide a financial report to the Board at each Board meeting.
3) Board Member at Large – If you are interested in serving on the board in a different capacity, please explain your interests below. We are open to having at-large board members or creating new positions.
About Write to Be: Write to Be supports the Fi Ki Fὸ program ("Strong Girl" in Haitian Creole) in collaboration with Consolation Center Haiti (CCH) in Les Cayes, a nonprofit that provides medical care, education, housing, meals, and clothing for girls and boys in southern Haiti. In 2020, over 20 11-year old girls will participate in a series of activities led by Haitian women focused on self-identity, healthy relationships, professional life, and society. These activities, part of a curriculum developed by U.S. and Haitian educators, are accompanied by vocational skill training classes along with mentorship opportunities. Believing strongly in the importance of developing female leaders and recognizing the barriers young women face during the transition to adulthood, Write to Be also oversees the Famn Ki Fὸ ("Strong Woman") Fund, which provides scholarships for Fi Ki Fὸ alumnae for ongoing education and professional development opportunities as well as emergency funding. Check out more at www.writetobe.org.
Application and recommendation letter is due November 1, 2020. The application can be found here: https://docs.google.com/forms/d/e/1FAIpQLSd1MGNqimM5_qBzQtNv8zGb5R9Bwcw_sq5wXiFrPzCbIeEnaQ/viewform
Please reach out to Kelsey Ullom, President of the Board (kelsey@writetobe.org) with any questions. Thank you for your interest!
Position posted: 09/12/2020