You may have heard that I recently attended the taping of the 10th day of 12 Days of Giveaways of The Ellen Show – the show aired on Friday  What you might not know is that I had the UNBELIEVABLE opportunity to participate in the Ellen Show dance off….which I took advantage of to the Nth degree. (Click here to see what happened.)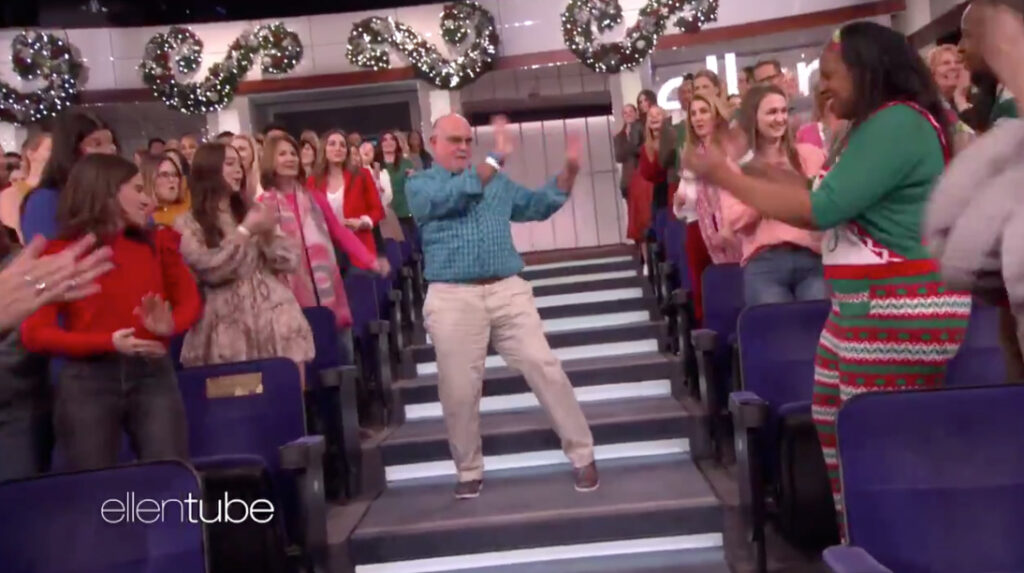 So this has gone a bit viral. @TheEllenShow posted my "gift of dance" on Twitter and we are now over 270K views!
As it is The Giving Season, I am creating a campaign using the @TheEllenShow tag line of "I give you this gift of dance." I want to direct the traffic to the nonprofit organizations that I work with and encourage visitors to make donations.
Support these Nonprofit Organizations Today!
Bread of Life – Food for the body…Nurture for the soul
Community Catalyst – Because we all should have a say in decisions that affect our health.
Discovery Museum  Great play is what every kid needs and every kid deserves. The cost to provide it is very low. The cost of not having it is very, very high.
Father Bill's and MainSpring – Nobody Should be Homeless
Fenway Health – Health care should be a right, not a privilege.
Goodwill – Giving makes you feel good.
Hildebrand Family Self-Help Center, Inc. – Breaking the Cycle of Homelessness
Housing Families – Because every family deserves place to call a home.
Invest in Girls – We believe every girl should feel financially empowered.
JALSA – Devoted to engaging the community in promoting civil rights, protecting civil liberties and achieving social, economic, environmental, and racial justice.
Jane Doe, Inc. – We work to amplify the voices of all who are impacted by sexual and domestic violence and to undo the social injustices that perpetuate an abuse of power.
Just-A-Start Corporation – Celebrate the Power of a Caring Community
Keshet – Works for the full equality of all LGBTQ Jews and our families in Jewish life.
Our Daily Bread – Taunton Soup Kitchen – Food and Resource Center
The Price Center – Empower individuals with intellectual and developmental disabilities to thrive!
Samaritans Inc. – Preventing Suicide, Providing Hope
SAVE – Suicide Awareness Voices of Education.
Seeding Labs – We believe that unleashing the full potential of scientists worldwide is our best hope for fighting global diseases, feeding our growing population, and protecting our planet.
SCI Social Capital – Strengthen communities by connecting diverse individuals and organizations through civic engagement initiatives.
Science Club for Girls – Celebrating STEM collaboration, dialogue, and opportunity in our communities. 
Second Chances – Clothing Connecting Community
Sumaira Foundation – Generating global awareness of neuromyelitis optica spectrum disorder (NMOSD), fundraising to help find a cure, and creating a community of support for patients + their caregivers.
Uncornered – Committed to moving proven-risk young people from the corners to college, while uncornering minds about their full potential.
Uprise Circus – We create a community of supporters for underserved kids and teach them skills for dealing with challenging situations.
The Theater Offensive – To present liberating art by, for, and about queer and trans people of color that transcends artistic boundaries, celebrates cultural abundance, and dismantles oppression.
WBUR – Boston's NPR News Station
YW Boston – Eliminating Racism Empowering Women
Zumix – A place where every kid and teenager can express themselves through art and learn how to be successful in life doing what they most enjoy.
If you are interested in participating, and have a direct link on your website for where people can donate, please send it to me here. We will add your link to our blog post.  Once we get your organization set up, we will ask if you can share the link ‒ help keep the buzz growing! We will even provide a draft for you to post to your twitter and LinkedIN accounts.
I look forward to hearing back from you!
Sincerely,
Leigh, "The Dancing CPA"